Austin's Rise As A Tech Hub:
Over the past few decades, Austin, Texas, has experienced a remarkable transformation from a relatively quiet college town to a thriving tech hub. Home to an impressive array of innovative startups and major technology companies, Austin has become an attractive destination for tech professionals and entrepreneurs from around the world. This rise as a tech hub can be attributed to several key factors that have fueled its growth and success.
Reasons Why Austin, Texas is Becoming a Tech Hub
1. High-Skilled Workforce: Around 47% of adults in Austin have obtained a degree, making it a city with a well-educated workforce. According to the Brookings Institute, Austin ranks 9th in the U.S. for its share of workers in high-tech industries.
2. Rapid Job Growth: Austin has one of the fastest rates of job growth in the country. In the tech sector, specifically, tech jobs have grown by 41.4% from 2015 to 2020, according to CompTIA's Cyberstates report.
3. Relatively Low Cost of Living: As of 2021, Austin has a cost of living index of 119.3. This is higher than the national average of 100, but lower compared to other popular cities in the U.S. like New York City, which has an index of 187.2 (Sperling's Best Places).
4. Increased Tech Company Presence: Iconic tech companies like Apple, Google, Facebook, and many more have set up large offices in Austin. Apple, in fact, is set to make Austin its largest hub outside of Cupertino with a $1 billion campus.
5. Startup Ecosystem: Austin ranks 11th globally for startup ecosystem strength, according to StartupBlink's 2019 Startup Ecosystem Rankings report.
First and foremost, Austin's vibrant and inclusive culture has played a significant role in attracting talent. Known for its live music scene, outdoor activities, and welcoming atmosphere, the city offers an appealing lifestyle that appeals to young professionals seeking both career opportunities and an excellent quality of life. Moreover, the presence of prestigious educational institutions like the University of Texas at Austin has cultivated a strong talent pool within the city.
These institutions have fostered collaborations between academia and industry, creating an environment conducive to innovation. Additionally, local authorities' favorable business policies have encouraged Austin's entrepreneurial endeavors.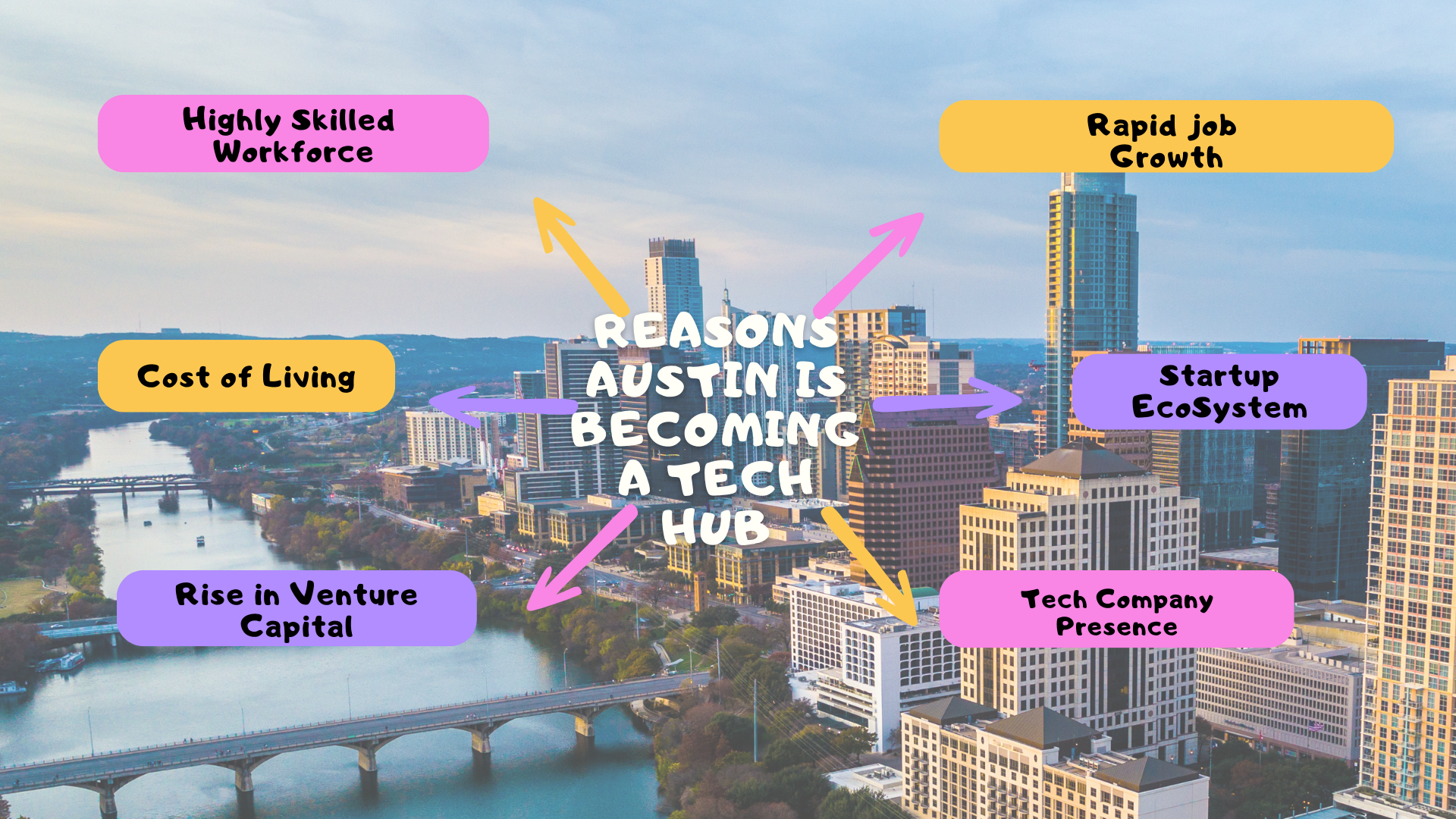 The New Sillicon Valley? A Thriving Startup Ecosystem In Austin
Austin, Texas has emerged as a thriving tech hub, attracting entrepreneurs and investors worldwide. The city's startup ecosystem has flourished due to several factors that make it an ideal location for tech companies to establish and grow their businesses. Firstly, Austin benefits from a strong talent pool. With prestigious universities like the University of Texas at Austin and its top-ranked engineering and computer science programs, the city produces a steady stream of highly skilled graduates.
Additionally, many professionals are drawn to Austin's affordable cost of living compared to other major tech hubs like Silicon Valley or New York City. Moreover, the city boasts a supportive network of incubators, accelerators, and co-working spaces that foster innovation and collaboration. Organizations such as Capital Factory and Techstars provide startups with resources, mentorship programs, and access to venture capital funding.
Furthermore, Austin's vibrant cultural scene adds to its appeal. The city's energetic atmosphere attracts creative individuals who contribute fresh perspectives to the tech industry.
Austin Becoming Artificial Intelligence Tech Hub much like Silicon Valley Was
Austin, Texas, is rapidly becoming the next major technology hub in the US for artificial intelligence (AI). Similar to how Silicon Valley was during the initial dot-com boom, Austin is witnessing an influx of tech companies all focused around AI.
This trend is not recent, although it has dramatically accelerated in the last few years. For several years, Austin has been seen as a cheaper and more business-friendly alternative to Silicon Valley. Its lower cost of living and favorable business conditions have already attracted many startups and tech giants like Google, Facebook, Apple, and Oracle, which have set up operations in the city.
AI in Austin is developing across a spectrum of applications, including healthcare, finance, robotics, and autonomous vehicles. Some prominent AI companies in Austin include CognitiveScale, SparkCognition, Valkyrie Intelligence, and Mythic AI.
The city is also home to the Austin.AI hub, launched in 2017, where companies, researchers, and government collaborate to advance AI in the city.
However, Austin isn't just a tech hub because of its business environment but also because of its rich talent pool.
Top Tier Talent Pool and Education
One key factor that has contributed to Austin, Texas, becoming a thriving tech hub is the presence of top-tier universities in the area. The city boasts renowned educational institutions such as the University of Texas at Austin, which consistently ranks among the top universities in the nation for computer science and engineering programs. These universities attract some of the brightest minds from around the world, fostering a culture of innovation and technological advancement.
The influx of talented students and faculty creates a rich ecosystem that nurtures entrepreneurship and collaboration. Moreover, these universities play a crucial role in bridging academia with industry. They actively encourage partnerships between researchers, students, and local tech companies, facilitating knowledge transfer and technology commercialization. This close collaboration ensures that cutting-edge research is translated into practical applications, fueling Austin's reputation as a hub for technological innovation.
Additionally, these institutions provide an abundance of resources such as research facilities, mentorship programs, and startup incubators that support aspiring entrepreneurs. Students have access to state-of-the-art laboratories and equipment to experiment with emerging technologies.
Government Support And Incentives For Tech Companies in Austin Texas
Austin, Texas has emerged as a prominent tech hub due to the strong support and incentives provided by the local government. Recognizing the potential economic benefits and job creation that come with a thriving tech industry, the government has implemented various policies to attract and retain tech companies. One of the key factors driving Austin's growth as a tech hub is its favorable tax environment.
The state of Texas does not impose corporate income tax, making it an attractive destination for businesses looking to maximize their profitability. Additionally, Austin offers several tax incentives specifically tailored for technology companies, such as exemptions on sales taxes for certain equipment purchases. Furthermore, the local government actively collaborates with academic institutions and industry leaders to foster innovation and talent development.
Austin boasts world-class universities that produce a skilled workforce in computer science and engineering fields. The city also encourages partnerships between businesses and academia through programs that provide funding for research collaborations or internships. In addition to these financial incentives, the government provides streamlined permit processes and regulatory frameworks that facilitate business operations.
Austin's Affordable Cost Of Living And Quality Of Life
Austin, Texas has emerged as a leading tech hub in recent years due to various factors, and one key aspect contributing to its success is the city's affordable cost of living and high quality of life. Unlike other major tech hubs such as San Francisco or New York City, Austin offers a significantly lower cost of living, making it an attractive destination for both established companies and startups.
The affordable cost of living in Austin allows tech professionals to enjoy a comfortable lifestyle without having to bear the burden of exorbitant housing costs or high taxes. The city's real estate market offers reasonably priced housing options compared to other tech-centric cities. Additionally, the absence of state income tax in Texas further adds to the financial advantages for those working in the tech industry.
Moreover, Austin boasts a vibrant cultural scene with numerous entertainment options and recreational activities. The city is renowned for its live music venues, festivals, outdoor spaces, and culinary delights. This combination of affordability and quality of life creates an environment that not only attracts top talent but also fosters a strong sense of community among tech professionals.
The Importance Of Networking And Collaboration In Austin's Tech Scene
Networking and collaboration play a pivotal role in Austin's emergence as a thriving tech hub. The city's success can be largely attributed to its strong sense of community, where industry professionals actively engage with one another to foster innovation and growth. Firstly, networking events provide an opportunity for individuals from various tech backgrounds to connect, exchange ideas, and explore potential collaborations.
These events include meetups, conferences, and hackathons that attract talented individuals eager to showcase their skills and learn from others. By facilitating these interactions, Austin creates an environment conducive to the cross-pollination of ideas and expertise.
Furthermore, the city's emphasis on collaboration is evident through the numerous coworking spaces and incubators it offers. These spaces serve as hubs where startups can share resources, access mentorship programs, and collaborate on projects.
The collaborative nature of these environments encourages knowledge sharing and teamwork among entrepreneurs. Ultimately, networking and collaboration are vital components of Austin's tech scene because they promote connectivity among professionals with diverse skill sets.
Artificial Intelligence and Machine Learning in Austin's Hill Country
The success of Austin, Texas as a tech hub can be attributed to the presence of several key industry players that have significantly contributed to its growth. One of the most prominent companies in Austin's tech landscape is Dell Technologies. Founded by Michael Dell in 1984, Dell Technologies has established its headquarters in Round Rock, a suburb of Austin. The company's innovative approach to computer technology and its extensive range of products have made it a global leader in the industry.
Another major player in Austin's tech scene is IBM. IBM has been a significant contributor to the city's technology ecosystem for decades. With its research and development facilities and numerous partnerships with local universities, IBM has played an instrumental role in fostering innovation and talent within the region. Furthermore, Austin is home to many successful startups that have become crucial players in the tech industry.


Companies like Indeed, HomeAway (now part of Expedia Group), RetailMeNot (now part of J2 Global), and BigCommerce have all experienced substantial growth and success within Austin's vibrant tech community.
The Role Of Venture Capital And Investment In Austin's Growth
One key factor contributing to Austin, Texas' emergence as a thriving tech hub is the significant role played by venture capital (VC) firms and investment in the city's growth. Over the past decade, Austin has witnessed a surge in VC funding, attracting both local and national investors eager to support innovative startups. The availability of substantial VC funding has allowed entrepreneurs and tech companies in Austin to access crucial financial resources necessary for research, development, and scaling their businesses.
This influx of investment has created a fertile ground for startups to flourish and has encouraged talented individuals from across the country to relocate to Austin in search of opportunities. Furthermore, VC firms have played an instrumental role in fostering collaboration between startups and established companies. Through strategic partnerships and mentorship programs, these firms have facilitated knowledge sharing, resource pooling, and market expansion for emerging businesses.
The success stories of prominent Austin-based startups like Indeed, HomeAway, and Bumble are testaments to venture capital's pivotal role in fueling innovation within the city.
Austin's History as a Tech Hub Tech Scene A Tech Hub
In conclusion, Austin, Texas, has emerged as a thriving tech hub due to various factors contributing to its rapid growth and development in recent years. The city's vibrant start-up ecosystem, favorable business environment, and strong talent pool have attracted top technology companies and entrepreneurs nationwide. As a result, Austin has become a hotbed for innovation and a magnet for venture capital investments.
Looking ahead to the future, it is clear that Austin's trajectory as a tech hub will continue upward.
What Large Companies has Austin been Home to?
1. Dell: Multinational tech company founded by Michael Dell in his dorm room at The University of Texas. Its headquarters is located in Round Rock, close to Austin.
2. Whole Foods Market: An American multinational supermarket chain headquartered in Austin, Texas.
3. National Instruments: A producer of automated test equipment and virtual instrumentation software.
4. Advanced Micro Devices (AMD): Semiconductor company that develops computer processors and related technologies for businesses and consumers.
5. Yeti: A manufacturer of outdoor lifestyle products such as ice chests, vacuum-insulated stainless steel drinkware, soft coolers, and related accessories.
6. HomeAway: An online marketplace for vacation rental properties.
7. Cirrus Logic: A fabless semiconductor supplier that specializes in analog, mixed-signal, and audio DSP integrated circuits.
8. Silicon Labs: A global, fabless semiconductor company that makes silicon, software and solutions for a smarter, more connected world.
9. Kendra Scott: An American fashion designer who is the chairman, CEO, and lead designer of Kendra Scott, LLC.
The city's commitment to fostering technological advancements through initiatives such as the Texas Innovation Alliance and the creation of innovation districts ensures that it remains at the forefront of technological innovation. Additionally, with major companies like Apple and Tesla expanding their presence in Austin, there will be increased job opportunities for tech professionals.
This influx of talent will further strengthen Austin's position as a leading tech hub. However, challenges lie ahead. As more companies flock to Austin, there is a pressing need for infrastructure development to support this growth adequately.